Company Profile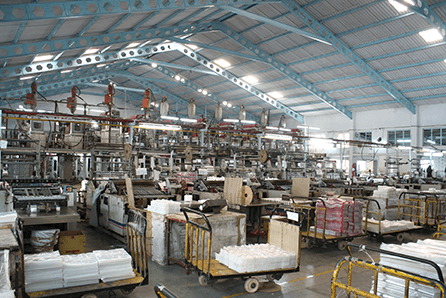 Established in 1980 by Mr. Kanhaiyalal Agarwal, Alpha Polytechno, as it was known then, benefited from being in middle of the textile hub in India. With PVC being used widely in the industry, Alpha saw an opportunity to change the industry standard by introducing Polypropylene Tubular Quench (PPTQ) film because of its clarity and strength. With first plant in Mr. Agarwal's basement in small village called Navsari (about 200 km north of Mumbai), capacity of about 10 MT per month was installed.
In 1984, due to limited space and resources, the plant was relocated to Daman (about 125 km north of Mumbai) with name being changed to Alpha Polymer. With larger space of 1500 square meters, Alpha Polymer was able to process about 4200 MT of polymer annually by 1996, making it the single largest process of PPTQ in India.
In 1996, Alpha Polymer was offering not only PPTQ, but also Polyethylene (PE) bags and liners to for industries including, but not limited to, textile, stationary, and household goods. Mr. Agarwal's vision of making Alpha Polymer the largest processor of polymer materials in Asia called for the plant to relocate to a four acre Alpha Industrial Park where the facility still exists.
By 2004, Alpha Group was processing about 2,000 MT of polymers every month, making it the largest PPTQ converter in Asia! This tremendous growth allowed Alpha Group to diversify and add PET bottles to its portfolio for rigid packaging. Alpha Group is the only Indian company that provides solution for flexible and rigid packaging.
With this unique advantage, Alpha Groupused its resources to provide rigid packaging solution to various industries including, but not limited to, pharmaceutical, FMCG, beverage and cosmetics. By 2013, Alpha Group was manufacturing over 15,000 MT of PET bottles annually in various shapes and sizes, with volumes ranging from 10 mL to 1000 mL.Having ability to provide PET bottles from our plants in all four corners of India, Alpha Group has maintained its position as a market leader. With constant innovation in rigid packaging, Alpha Group is continuously pushing the limits of technology to offer an even wider range of products for every industry.
The Indian packaging sector is ever-evolving and with Alpha's leading position in the market in every sector, in 2006, Polyolefin (POF) Shrink Film and PET preforms was added to its portfolio. With Capacity of over seven million preforms per day and over 3,500 MT of POF shrink film annually, Alpha Group has become one of India's leading packaging solution provider for primary and secondary packaging industry.